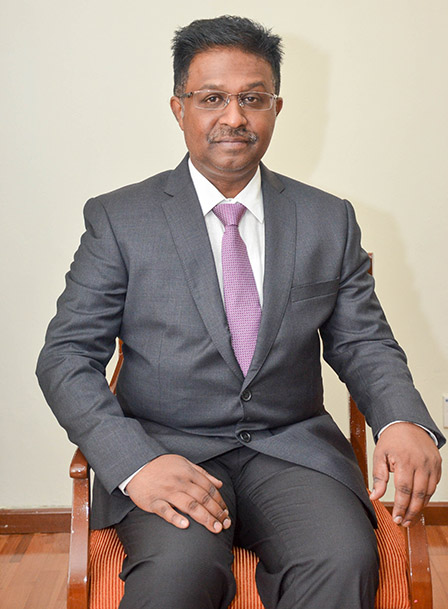 Dr Mohan Raj Varutha Rajoo, the Reproductive Specialist and Obstetrics & Gynaecology (O & G) Consultant at KPJ Damansara Fertility Centre has served with the Malaysian Government for 17 years as an Obstetric & Gynaecologist in Sungai Buloh Hospital, Hospital Tunku Rahimah in Klang, and as Reproductive Fellow at University Kebangsaan Malaysia and Kuala Lumpur General Hospital. Dr. Mohan graduated and obtained MBBS accreditation in 1997 in India and later obtained a Masters degree in O & G from University Malaya in 2007. Dr. Mohan Raj was selected by the Medical Board of Malaysia to Sub Specialise in Reproductive Medicine at the Queen Mary Hospital in Hong Kong in 2014 under the supervision of Professor P.C.Ho and Professor Earnest and was accredited with a "Fellowship in Reproductive Medicine". Dr. Mohan's area of expertise in Reproductive Medicine includes skills in the latest development in terms of ultrasound scanning, follicular trekking by ultrasound, intrauterine insemination, transvaginal ultrasound-guided oocytes retrieval and embryo transfer which he gained during his attachment at the Reproductive Unit at Queen Mary Hospital in Hong Kong. His other specialties include Assisted Reproductive Technology (ART) process, including ART laboratory process and quality control, surgical sperm recovery, and embryo transfer all of which he acquired during his clinical attachment at the Division of Reproductive Medicine at Chiang Mai University, Thailand in 2010 under the supervision of Professor Terapon who has written extensively on innovative fertility management strategies and revolutionized fertility treatment in Thailand.
Accomplishment & Recognitions
Dr.Mohan's outstanding accomplishments include attaining a Honors' Certificate of Excellence in Public Service in 2010, conducting the "Training Seminar On Management of Infertility" in 2009, having completed training in Life Saving Skills Essential for Obstetric and New Born Care in 2008, and having published the article ""Prognostic Factors Influencing Pregnancy Rate after COH" in the Medical Journal of Malaysia (Vol. 62, Issue No. 4) in 2007. Dr Mohan has written articles in various local magazines and newspapers on Male &Female fertility issues. He has also given talks over the local radio television.
He has successfully treated couples with more challenging infertility cases such as male infertility, women with poor ovarian reserve and poor responds, failure of implantation and advanced aged infertility women. Dr. Mohan says that his delighted to have joined KPJ Damansara Specialist Hospital and the fertility centre family and to have been given the opportunity to make a difference in the area of medicine that he feels most passionately about helping people achieve their dreams of parenthood".
Awarded as Successful Person in Malaysia by British Publishing House.